Introduction
Donepezil is a white or almost white crystalline powder and is freely soluble in chloroform, soluble in water and in glacial acetic acid, slightly soluble in ethanol and in acetonitrile, and practically insoluble in ethyl acetate and in n-hexane. Donepezil is a potent, selective, noncompetitive, and rapidly reversible inhibitor of acetylcholinesterase (AChEI) licensed for the treatment of Alzheimer disease (AD) and other types of dementia. The structure of donepezil is showed in figure 1.
Application in the treatment of Alzheimer's disease
Donepezil was first approved to be prescribed in 1996, mainly to delay the progressive worsening of cognitive symptomatology of patients diagnosed with Alzheimer's Disease.
Introduction of Alzheimer's disease
Alzheimer's disease (AD) is a neurodegenerative disease that usually starts slowly and progressively worsens. AD is the most common cause of dementia — a continuous decline in thinking, behavioral and social skills that affects a person's ability to function independently. Figure 2 shows the physiological structure of the brain and neurons in healthy brain and AD brain [1].
The commonly accepted cholinergic hypothesis proposes that a portion of the cognitive and behavioral decline associated with Alzheimer's are the result of decreased cholinergic transmission in the central nervous system.
Donepezil binds reversibly to acetylcholinesterase and inhibits the hydrolysis of acetylcholine, thus increasing the availability of acetylcholine at the synapses, enhancing cholinergic transmission (see Figure 3) [2]. Some in vitro data has suggested that anticholinesterase activity of donepezil is relatively specific for acetylcholinesterase in the brain.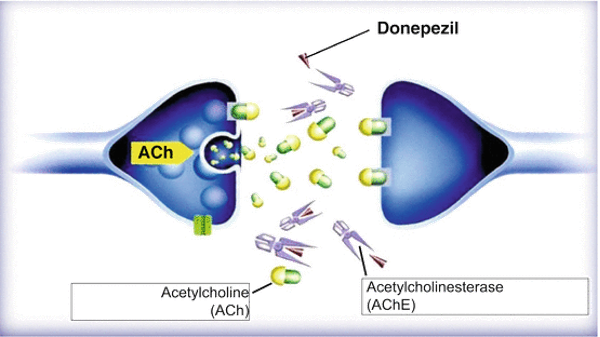 In addition to the above, other mechanisms of action of donepezil are possible, including the opposition of glutamate-induced excitatory transmission via downregulation of NMDA receptors and the regulation of amyloid proteins, which have demonstrated significant effects on the disease process of Alzheimer's. Other possible targets for donepezil may also include the inhibition various inflammatory signaling pathways, exerting neuroprotective effects.
It should be noted that donepezil is used to treat symptoms of AD such as improving cognition and behavior without altering the AD progression.
Donepezil comes as a tablet and an orally disintegrating tablet (tablet that dissolves quickly in the mouth) to take by mouth. Like all medicines, donepezil can cause side effects, although not everyone gets them.
Common side effects:
nausea
diarrhea
muscle pain
feeling tired
vomiting
loss of appetite
sleep problems (insomnia)
Serious side effects:
slow heartbeats
new or worsening stomach pain
nausea
convulsions (seizures)
new or worsening breathing problems
coughing up blood or vomit that looks like coffee grounds
lightheadedness
heartburn
vomiting
painful or difficult urination
bloody or tarry stools
Alfa Chemistry offers high quality of donepezil. Please feel free to contact us for APIs or technical services.
References
Zeinab Breijyeh and Rafik Karaman. Comprehensive Review on Alzheimer's Disease: Causes and Treatment. Molecules 2020, 25(24), 5789.
Basic Theory of Pharmacology for Alzheimer's Disease. Pharmacy, 2016.